Is Blackjack at Bovada Legal
With some exceptions (depending on what state you are in) the answer to this question is yes. The way Bovada works is it is located offshore, outside of the United States, in Costa Rica. This is important to its legality. Most states in the United States have laws making gambling illegal, but those laws generally affect gambling establishments, not the person gambling. For example, it would be illegal to run a casino in some states, but it wouldn't be illegal to bet at one. Bovada, is located offshore, is not run in those states, and it's not illegal simply to use it. That's the legal area in which Bovada exists.
Live Dealer Blackjack at Bovada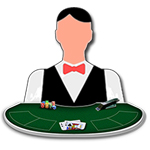 Live dealer blackjack is one of the best ways to play blackjack online, and Bovada offers it in spades, no pun intended. At any given time, Bovada has a large number of live dealers ready to deal you into the blackjack world, and the rules can be different from table to table. The appeal of live dealers is that you can interact with them, you can actually see the person dealing the cards. This helps to alleviate some stress, provide further excitement to the players, and allow a more realistic feel for your online blackjack experience.
Mobile Blackjack at Bovada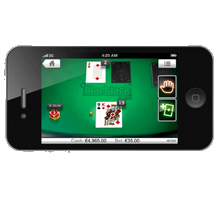 Playing mobile blackjack at Bovada is very easy. One thing to note, though, is that they don't offer an app - no downloads are necessary in order to play blackjack at Bovada. The big innovation that Bovada has brought to the table is their mobile website. Basically, when you go to their website on a mobile device like a smartphone or tablet, you will see a mobile version of their website that looks and feels like an app, so you should be able to understand it well and easily place all the bets you need to at as many tables as you'd like.
Real Money Blackjack at Bovada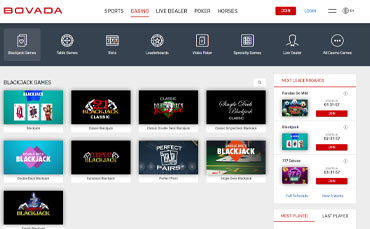 Now, you might be asking if this is all done with real money. The good news is, of course it is. We all love gambling for the thrill of winning money, and you can't win money without risking any. Bovada is a real money online casino offering real money blackjack games. You can deposit through a variety of methods, from credit cards to cryptocurrency, and you can withdraw through a very similar variety of methods. All you need is some money in your account to get started, and you can be playing real money blackjack at Bovada in only a couple minutes.
Free Practice Blackjack at Bovada
Maybe you don't want to spend money, though? Perhaps you just want to learn how to play the game. Don't worry, Bovada can help you out here too. Some of their tables are set up so that you can play on them for free, which means that you can get some serious experience before playing for real money. Just make sure you check to guarantee the game is free. Of course, free games have little to no prizing, but that is to be expected given their entry fee - these are just for practice.
Types of Blackjack Games at Bovada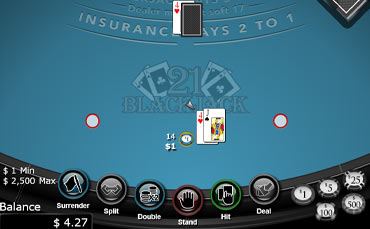 Bovada offers a lot of different types of Blackjack. Here is a list of all the types of Blackjack offered at Bovada:
Classic Blackjack
Classic Double Deck Blackjack
Classic Single Deck Blackjack
Double Deck Blackjack
European Blackjack
Perfect Pairs
Single Deck Blackjack
Zappit
Each of these variations has different rules and different strategies that require adaptation from blackjack players. Make sure you familiarize yourself with the rules and strategies of each type of game before playing it.
Bovada Blackjack Betting Limits
Blackjack tables at Bovada will work similarly to blackjack tables at a brick and mortar casino. Basically, they have certain types of betting limits depending on the table. These betting limits can range from five dollars to one hundred dollars, and maybe more. Make sure you find a table that suits your budget - there's no better way to go broke than messing up your bankroll discipline and playing sloppily.
Blackjack Odds Payout % at Bovada
So, most blackjack games are among the fairest games in the casino, with payout percentages above 98% for the most part. Blackjack at Bovada is no exception. Each of the different types of blackjack you can play at Bovada has a different payout percentage, but all of them are about as far as you can get at a casino. None of the games have a payout percentage below 98%, and most of them tend to hover around the 99.5% payout percentage range, meaning that almost all of the money they take in, they also payout. Casino margins on blackjack are pretty small.
Blackjack Rules at Bovada to Note
Well, most of the blackjack rules at Bovada are the same as they are anywhere else. The real thing to keep in mind is how the rules of certain variants impact how you should be approaching each type of blackjack. For example, in Zappit, you can throw away and redeal hands of 15/16/17, and in exchange, the dealer gets a little bit of an advantage on their busts - they don't bust at 22 anymore, it's just treated as a push. The big thing to know here is the importance of familiarizing yourself with the rules.
Bovada Blackjack Strategy
For the most part, blackjack strategy at Bovada is going to be the same as anywhere else. The big thing you can do to give yourself an advantage is to understand what implications the rules of certain blackjack variants should have on your play. For example, in Zappit, the ability to throw away hard hands is important, and you should take that into account. The dealer gets a little bit of an advantage, so you must know how to use all the tools at your disposal to win.
Is Blackjack Rigged at Bovada
Not even a little bit. Blackjack is one of the fairest casino games on the planet, with payout ratios generally fairly near 100%. Casino margins on legal blackjack are very low. Bovada sometimes posts payout ratios on the games they're playing if you want to find the best ones. You can also use a live dealer if you want some added security and are worried about this kind of thing.