What Are Side Bets In Blackjack?
A side bet in blackjack is an additional bet placed at the start of around. There are three common side bets and players can use these to either increase their winnings or mitigate the losses they take from a losing round. Side bets spice up the blackjack formula and are a great way for players to collect more on their winnings. You can use side bets whenever certain criteria are met.
Most Popular Type of Side Bets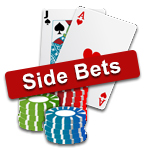 The most common type of side bet is insurance. When the dealer's exposed card is an ace, you can bet insurance on the dealer having blackjack. If the dealer does indeed have blackjack, then the player has doubled their bet on the dealer having a good hand. This is the most popular side bet that players use when playing blackjack. Other popular side bets are Perfect Pairs and 21+3. Perfect pair side bets are bets where a player wagers before the round that the cards dealt to them will be a Perfect Pair. And finally, 21+3 is when a player bets that their first two cards plus the dealers exposed card will equal to either a Flush, Straight, Three-of-a-Kind or a Straight Flush.
Progressive Side Bets In Blackjack
Progressive side bets are when a player can play to win more money based on if they are dealt with a specific combination of cards. For example, off of a $1 progressive side bet, if a player is dealt 1 ace, the bet pays out 3:1. If they get 2 aces unsuited, they can get $25. If the get 2 aces of the same suit, they can get $50. This can go all the way up to $2,500 for 3 aces of the same suit. The odds are very slim for a player to get the jackpot, but for a $1 side bet that isn't a bad wager.
Should I Play The Side Bet In 21
That is entirely up to the player. All legal blackjack bets are games of chance. If you are feeling lucky, then go for it. You can win big but you can also lose more money than intended for around if you lose the side bets as well as lose the hand. It is all risk/reward with blackjack so the judgment on taking side bets is all on the player.
Best Side Bet Payouts In Blackjack
The best payouts for side bets would be the progressive side bets. They can give the player the most for the wager they put in. it is a hard bet to win, however, because a specific set of cards must be dealt to the player, but the game of blackjack is a game of chance. All side bets have a risk of losses so whichever you chose will be a percentage for winning.
Free Side Bets in Blackjack
Free side bets in blackjack are most common in six-deck blackjack games. This is when a dealer hits a soft 17 (gets 17 on their first two cards) blackjacks pay the player 3:2 if they hit 21. Players can double down on any first two cards, and double down after splitting pairs. This is a strategy used by players to make more money on hitting blackjack. The free bet must be made at the start of the round however, so it all depends on how the cards are dealt.