What Is The Insurance Bet in Blackjack?
Insurance in blackjack is a strategy available to players only when the dealer's exposed card is an ace. With this option, players can make a side bet that the dealer will hit blackjack and if the dealer does, then the player doubles their bet. This is a strategy many players take advantage of when they feel they are dealt a bad hand and are confident that the dealer is going to hit jackpot.
Bovada:

Just like you would find at all of the retail casinos, Bovada offers insurance for blackjack on all of their games. In the event that the dealer you are going up against draws an ace, Bovada will immediately notify you and offer you the opportunity to take the insurance. The notification will give you the option to take it or leave it.
Ignition:

With Ignition, they offer the traditional blackjack games that do offer insurance when the dealer pulls an ace first. When this does happen, their insurance notification will pop up and if you want to take it, you'll click on the shield that appears above your cards. If you don't wish to take their insurance, you'll click on the "X" symbol that is off to the side.
Cafe Casino:

Café Casino offers insurance on all of their online blackjack games. In addition to them following all of the traditional rules of blackjack, you could even play blackjack with crypto and from your phone. Looking at their crypto options, the main form of it that they accept is Bitcoin and all you'll need to do is link your Bitcoin wallet to Café Casino and you could send your funds too and from your account. They also let you play blackjack right from any smartphone with internet access such as iPhone, Google Pixel, Samsung Galaxy, and Androids.
Slots.lv:

The way insurance works on Slots.LV is that if their dealer pulls on ace card, you be allowed to make a side bet that the dealer will have blackjack. If they do, you'll get paid out 2 to 1. You can also only take advantage of insurance on one of their tables if the dealers first card pulled is an ace. Other than that, you won't be given the option to take it.
When Should I Take Insurance In Blackjack?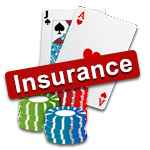 If you feel like you have a bad hand and the dealer's exposed card is an ace, then you should implement an insurance. That way the player can still win in the round where the dealer has blackjack. This is a risk, however, so be aware that taking insurance is no guarantee for a win. They pay from insurance is 2:1 so it is a good way to double your bet if the dealer hits blackjack.
Is It Worth It To Take Insurance In Blackjack?
It depends. If you truly believe the dealer will hit blackjack or are feeling lucky, then yes. If not, then it is a bad bet. It is all risk/reward like any other aspect of blackjack and players should go into every situation understanding that. Blackjack is a game of chance as a concept therefore if placing a side bet with insurance is worth it is up to the player.
Insurance Payouts In Blackjack
In legal blackjack, insurance pays the player 2:1 (the player receives two dollars for every one dollar bet). In other words, insurance doubles your bet if you are right. The goal of insurance is to make money if the dealer hits blackjack, where I other situations that would mean a loss for all players. The pay in insurance is a major incentive however, so many players take insurance when the opportunity arises.