What Is Splitting Cards In Blackjack?
Splitting cards in blackjack is the process where a player is dealt with two identical cards as their initial two, and the player chooses to add on to their initial bet and turn the two cards into two separate hands. When then happens is the two cards are now separated, and the dealer gives two more cards to the player, one for each new hand. This is done as a strategy to increase the player's odds of winning. Now instead of having one hand, the player holds two possibilities to hit blackjack.
Bovada:

Bovada is known as the best legal online casino to play blackjack with and for several reasons. Starting with their platform, it is one of the simplest to use being that as soon you gain access to their online casino platform, you'll be met with all of their blackjack games. They also have great casino bonuses for new users. Those include a $3,000 Welcome bonus and a $3,750 crypto welcome bonus when making your first deposit.
Ignition:

To split your cards playing blackjack on Ignition, when the opportunity presents itself, they'll have a button pop up that asks if you want to split your hand where you could either accept to do so or decline. It'll always be on two matching cards of equal value. If you accept, you'll play both hands like a normal game of blackjack. Overall, they make it easy to understand.
Slots.lv:

If cryptocurrency is your main everyday financial method, Slots.LV should be your go to online casino to play blackjack. They let you make deposits with some of the top cryptos in the world such as Bitcoin. Using Bitcoin to play blackjack on Slots.LV is beneficial because there are no fees, and quick processing times for all transactions using it.
Cafe Casino:

On Café Casino, you'll always see the option to split the cards in your hand but won't always be able to select it. When you are allowed to split your hand, the button will highlight itself and you can choose to either split the cards or not. You will not be able to split cards playing blackjack on Café Casino if the button isn't highlighted.
When Should I Split Cards In 21?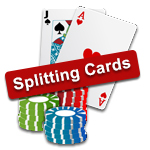 Splitting cards is entirely up to the player but the best situation is when the dealer has a weak exposed card. The most common card splitting is splitting aces, a process where players turn two aces into two separate strong decks. This increases the player's probability of hitting blackjack as now the player now holds two decks with aces. If the dealers exposed card is also an ace, then the odds of them hitting jackpot are also high making card splitting in this situation not as feasible. It is all up to the luck of the draw when it comes to card splitting.
Always Split Aces And Eights
As common strategy poses, one should always split aces and eights when playing legal blackjack. The reason for this is because the sum of these pairs is a bad start for blackjack players. The sum of two aces is 12, which is a total blackjack players do not want. Splitting those aces now gives you two chances to get a 10 on the next deal, thus increasing your odds of hitting blackjack. The same rules apply for splitting eighths. Two 8's equal 16 and that is also a bad position blackjack players want to be in as the odds of hitting a bust on the next deal is extremely high. When presented with these pairs, it is good practice to split every time.
Splitting Aces
The strategy behind splitting aces is to increase the probability of hitting blackjack. An ace and a 10 is automatically blackjack and is the only unbeatable hand in the game. With two aces, the sum is 12, which is a bad hand to start with. Splitting the two aces increases your odds at getting blackjack as both eyes now act independently. If you are dealt a 10, you automatically hit blackjack. The probability of you getting a 10 is now doubled as you have two separate chances to hit blackjack.
Splitting 2's
You have the option to split two's at most blackjack operators however the strategy behind splitting twos is not that beneficial. Splitting two's will give you two separate hands valued at two instead of one hand valued at 4. This doesn't necessarily increase your odds to get blackjack that much therefore the game of chance is not in your favor from splitting twos. The option is still available however and having multiple hands is still valuable.
Splitting 3's
Like splitting twos, splitting threes is not that valuable. Instead of having one deck worth 6, you will have two separate decks worth three. These low numbers make it harder for players to hit blackjack or beat the dealer therefore the strategy behind splitting threes is not that beneficial to winning.
Splitting 4's
Splitting fours is an interesting case. Players may be better off simply keeping the pair together, as the sum of two fours is 8, which is not a bad position to start with. Eight gives the player some room to play for blackjack unless they are hit with a face card or a 10. Splitting the fours into two separate decks will give you two decks worth for, however, you will be able to play with two hands which doubles your probability.
Splitting 5's
It is honestly better to not split fives. In this instance, two fives give you a starting hand of 10, which if you get an ace is automatically blackjack. Starting with a sum of 10 is considered a good start so players usually do not split fives. The strategy is not that beneficial as the player is now forced to work with two decks valued at five which is a really low hand to start with.
Splitting 6's
Splitting sixes a good strategy. Two sixes give you a starting hand of 12 which is a bad position to be in as the odds of hitting a bust are increased past 10. Unless you feel extremely lucky that you will be dealt an eight or nine, splitting the pair of sixes is a better bet. It decreases your odds of hitting a bust while simultaneously giving the player two hands to play with to get blackjack.
Splitting 7's
Splitting sevens is entirely based on the exposed card the dealer holds. With to sevens, the player starts with a sum of 14 which is not a good start as any face card, ace, or any card higher than 7 would automatically hit a bust. If the dealer's exposed card is low, you may want to risk it and keep the pair but if it is high you should most definitely go for the split. Hosting two hands valued at 7 each is better than one hand valued at 14.
Splitting 8's
It is recommended that players always split eighths. Eights as a pair is a tough hand to win with as it starts the player with a sum of 16. This means the player can easily hit a bust. Therefore, most players split the eights and end up with two decent hands that they can play in hopes of hitting blackjack.
Splitting 9's
Splitting nines is a valuable strategy as hosting two nines gives you a starting hand valued at 18 which is a bad spot to be in. Any move could give the player a bust which would automatically be a loss, therefore, making it blackjack becomes harder. Splitting and hosting two nines gives the player two hands that are far more valuable to potentially hitting blackjack.
Splitting 10's
Splitting 10's is only a good idea if the dealer's face card is an ace. This indicates that there is a chance the dealer has blackjack, in that case splitting and hosting two hands that value 10 each increases the player's chance of getting blackjack as well. If the dealer's exposed card is a low number, then the player should stay as with the value of 20, only blackjack will beat them.
Splitting Face Cards
Like splitting 10's which host the same numerical value, splitting face cards should solely be based on the dealers exposed card. If you have two face cards and the dealers exposed card is a low number, players should stay. This gives you the sum of 20, which can only be beaten if the dealer has a blackjack. If the dealer's exposed card is an ace, then splitting the pair of face cards becomes a better idea as it is possible the dealer has blackjack and would beat the 20.