What Is A Surrender In Blackjack?
Surrender in blackjack is the option for a player to fold their hand. This process will only penalize the player with half of their original bet. This option is used as a bailout tactic when players feel they are dealt a bad hand. This does not eliminate the bet completely, as players still lose half of the initial bet the wagered. Using surrender is just a way to stop the bleeding a little bit when drawing a bad hand.
Ignition:

Ignition has a very accessible platform for you to play online blackjack right from your phone. Playing from your phone is the exact same as playing from your computer as you can play every blackjack game that they offer on the go. The smartphones that Ignition is compatible with are basically any that have a built in web browser in which all of them do.
Bovada:

Bovada takes safety very seriously on their online blackjack platform to ensure not just an enjoyable experience, but a secure one as well. They use some of the strongest encrypted links that secure their servers that store your personal information and your web browser that you use to access them. On top of their backend measures, they also have 24/7 customer service.
Cafe Casino:

If you want the most out of your online blackjack experience, you should be playing at Café Casino. They have an incredible rewards program for new users to sign up with and existing users to continue taking advantage of. It runs on a point system where you can earn points for playing blackjack and then redeem those points for cash ad other forms of currency that they accept.
Slots.lv:

Slots.LV not only has some of the best online blackjack games, but they let you play all of them with Bitcoin and other cryptocurrencies. To do so, you can directly link your Slots.LV account to your Bitcoin wallet and use the share link to send your funds back and forth. There are also zero fees associated with Bitcoin blackjack that way you never have to worry about all your funds getting to your account.
When Should I Surrender In Blackjack?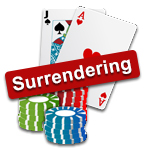 It is wise to surrender when the dealer's exposed card is either a 9, 10 or ace and your current sum is 16. The odds are in the dealer's hand as if you hit you could possibly bust and the dealer may have blackjack. That is the best strategic use of the surrender. It is still entirely up to the player as if the player believes the dealer does not have blackjack or they believe they can hit and get a 5, then, by all means, stay in the game.
When Am I Allowed To Surrender In Blackjack
You are allowed to surrender from the moment you get your cards. Players can early surrender as soon as their cards are dealt, even before the dealer checks for a natural blackjack. The surrender will cause the player to lose half of their original wager but that is better than losing the entire bet. Surrendering is available for players when things seem to be getting tight.
What Are The Benefits of Surrendering?
Surrendering allows players to save some money that they would otherwise lose in around. When a player folds there hand, they only lose half of their bet as opposed to the whole thing. This is a good way to mitigate the losses taken from losing rounds. Players exercise this when playing blackjack surrender because they can ultimately save on their losses. That is the biggest benefit to surrendering in legal blackjack.